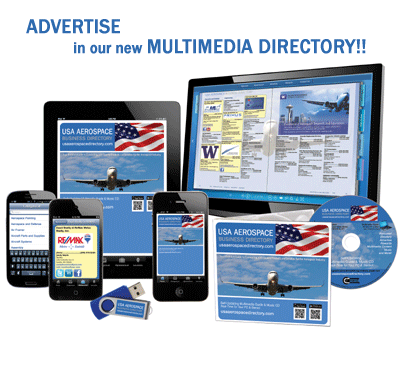 Increase Your Business Connections with the New USA Aerospace Directory
Welcome to the new edition of the USA Aerospace Directory (click here to view), your guide to enjoying - and showcasing - quality products and services produced and used by the aerospace industry.
Resolve to increase your business connections this year: Last year the U.S. aerospace industry contributed $118.5 billion in export sales to the U.S. economy. The industry's positive trade balance of $70.5 billion is the largest trade surplus of any manufacturing industry and came from exporting 64.3 percent of all aerospace production. Foreign firms are attracted to the U.S. aerospace market because it is the largest in the world and has a skilled and hospitable workforce, extensive distribution systems, diverse offerings, and strong support at the local and national level for policy and promotion. According to a recent study by the U.S. Department of Commerce, aerospace exports directly and indirectly support more jobs than the export of any other commodity. The U.S. aerospace industry directly employs about 500,000 workers in scientific and technical jobs across the nation and supports more than 700,000 jobs in related fields. Investment in the U.S. aerospace industry is facilitated by a large pool of well-trained machinists, aerospace engineers, and other highly-skilled workers with experience in the aerospace industry.
This guide is all about creating connections — whether say you are in metal treatment or propulsion in the industry, or an accountant or legal expert looking to provide support services, this directory will help improve your visibility, reach and retention throughout the US and abroad, while ensuring that prospective customers can find your business so that everyone can locate the quality products, services and partners they need.
Available online, on mobile apps and on self-updating CDs & USBs and print, the USA Aerospace Directory is a dynamic, social-media enabled and searchable directory, designed to provide maximum visibility. We encourage you to use it as a connection to your next customer — and we encourage you to reciprocate by doing business with fellow aerospace companies appearing in this publication.
The directory is distributed via our extensive network, reaching over 5,000 exhibitors, 300,000 trade visitors, 300,000 General Public Visitors, from 100 countries covered by 3,000 accredited journalists around the world.
Contact us for further information on marketing opportunities.
A & B Quality Finishers, Inc., A & E Machine Inc, A & G Machine, A And R Aviation Services Inc, A&M Precision Measuring Services, A-1 Precision, Inc., AAA Precise Machine Inc, AACO Avionics , Absolute Aviation Services Inc, Absolute Manufacturing, Inc., ABW Technologies, Inc., Ac Propeller Service Inc, ACCRA Manufacturing, Inc., ACCRA-FAB, AccuDUCT Manufacturing, Accurate Machining, Accutac, Inc., Achilles USA. INC., ACRO Machining, Inc., Action Grinding & Machining Corp., Acuren Inspection Inc, Adams Rite Aerospace, Advanced Thermoplastic, Aegis Technologies Group, Aero Law Group PLLC, Aero Mac, Inc., Aero Maintenance Inc, Aero Manufacturing, Inc, Aero Precision Inc., Aerocell Inc. [C$D Zodiac, Advanced Composite Division], Aerocenter, Aero-Controls Inc, Aeroform , Aerojet Company, Aero-Mech Inc, AeroMech, Inc., Aeronautical Testing Service, Aero-Plastics, Aerosertec USA LLC, Aerospace Consulting, Aerospace Joint Apprenticeship Committee (AJAC), Aerospace Machining Specialists, Aerospace Manufacturing Tehnologies, Inc., Aerospace Manufacturing Tehnologies, Inc., Aerostar Engineering, Inc. (Subsidiary of Air Spares), Aerovel Corporation, AIM Aerospace, Inc., Air Carrier Technologies LLC, Air Direct Solutions, Air Metal Fabricators, Inc., Air Spares, Inc., Air Time Aviation Inc, Air Washington, Aircraft Modifications, Inc. / Turbo Plus, Aircraft On Ground Inc, Aircraft Propulsion Systems, Aircraft Support Co LLC, Airtech Instrument Company Inc, AIT Design Inc., Alaskan Copper Companies , Alpha Precision Machine, Inc., Alpha Technologies, Altek Inc, American Autoclave Company, American Edge LLC, American Manufacturing and Engineers, Ametek Aerospace Products, Andrews Space, Inc., Angeles Composite Technologies, Inc, Apache Aerospace, Inc., Apex Industries, Apph Aviation Services Ltd, Associated Aircraft & Marine, Associated Painters, Inc., Astronics Advanced Electronic Systems, ATACS Products, Inc., Atlas Castings & Technology / Atlas International, Atlas Supply, Inc., Auburn Flight Service Inc, The Austin Company, Avchem, Aviation Development Corp, Aviation Innovations LLC, Aviation Liaison Service, Aviation Partners Boeing, Aviation Partners, Inc., Aviation Spares & Services Intl. Co., Aviation Technology Resources, Inc., Aviation Technology Services, Aviators Choice Llc, Avionics Communication Systems, Avtech Corporation, B & H Machine, Inc., B E Meyers & Co., Inc., B/E Aerospace, B/E Aerospace - Services, BAE Systems, Platform Solutions (GEC Marconi Avionics), Baker Manufacturing, Inc., Baker Mfg Inc, Ballard Technology, Belair Composites Inc, Big Air Productions, Big Bend Community College, Birch Equipment Rental and Sales, Inc., Blackies Grinding Services, BLR Aerospace, Blue Origin LLC, Blue Streak Finishers, BMG Industries, Boeing, The Boeing Company, Bogert Aviation, Boundary Layer Research, Inc. (BLR Aerospace), Bowman Manufacturing Co., Inc., Brewster Manufacturing, Bridgeways, Brooks Tactical Systems, Bucher Aerospace Corporation, Buyken Metal Products, Inc., C & D Zodiac, C N C Diversified Mfg Inc, Cablecraft, Cad Airwings, Cadillac Cables, LLC, CAN Manufacturing Systems, Inc., Can-Am Aerospace, LLC, Cannon Aircraft Interiors-Cai Avionics, Cannon Avionics Inc, Carey, Brian Dewey, Cargo Components, Inc., Carlson-Formetec, Inc., Carlyle, Inc., Cascade Aerospace Usa Inc, Cascade Airframe Repair Inc, Cascade Aviation Services, Inc., Cascade Columbia Distribution Co., Cascade Engineering Services, Inc., Cascade Gasket, Cascade Machinery & Electric, Inc, Cashmere Manufacturing, Castle Metals [A.M. Caitle & Co.] (Cutter Precision Metal), Centerline Machine, Central Washington Ultra Lites, CFI Blue Sky II LLC, Chemical Cloth Company, Clay Lacy Aviation, CNA Manufacturing Systems, Inc. / CNA Flexible Tooling Systems, Coleman machine, Color Craft, Inc., Color Tech, Inc., Commet Precision Products, Compass Aerospace Northwest [Synchronous Aerospace] / Modern Manufacturing, Inc. , Component Products Corp., Composite Laminate Specialties, Composite Solutions Corp, Composites Atlantic Limited, Composites one, Contour Aerospace, Covlet Machine & Design Inc, Crane Aerospace (Eldec Corp., P.L. Porter), Crane Electronic Corporation, Crossings Aviation, Crown Aviation Llc, Cub Crafters Inc, Cunningham Aircraft Covers Inc, Curtis Manufacturing, Curtiss-Wright Controls [division of Curtiss-Wright Corporation] (Dexter-Wilson Corporation), Custom Control Concepts Inc, Custom Embroidery & Promotions Inc., Custom Hydraulic & Machine, Inc., Custom Metal Spinning Co., Custom Sheet Metal & Fabrication, Cutting Specialists, Inc., D3 Technologies, Daedalus, Inc., Damar Machine, Dance Air Inc, Danner Corporation/ ZIP-VAC, Dara Aviation Inc, DASSAULT SYSTEMES, Davis Calibration [Davis Inotek Instruments LLC.] (Northwest Calibration Systems, Inc.), Definitive Avionics Llc, Delta Tooling, Inc., Derivative Airplane Programs, Deyoung Mfg., Inc., Diamond Machine Works, Inc., Diversified Industrial Services, DLR Group, Driessen Services Inc, DTL Canyon Park, Duncan Aviation Inc, Dylan Manufacturing, DynaComp Corporation, Earle M. Jorgensen Company (EMJ), Eaton Aerospace [Eaton Corp] / Vickers Aerospace, EDCO, Inc., EDJ Precision Machine, Inc., Eldec Corp, Electroimpact, Inc., Ellison Fluid Systems, Inc., Eric Anderson, Eriks West USA, Esterline Technologies /Hytek Finishes Company, Esterline Technologies Corporation, everett community college, Everett Jet Center, Excell Aerofab, Executive Flight Inc, Exotic Metals Forming Co., Exotic Tool Welding, Inc., Express Aircraft Co LLC, Fabriform Plastics, Fairchild Fasteners (Alcoa Fastening), Farwest Aircraft, Inc., Fatigue Technology, Inc., Filtrona Extrusion / A & B Plastics Inc. , Fisher Broadcasting Inc, Fixture Engineering Inc, Flightways Corp, Flow International Corporation, Flowcal Corp., Fluke Corp, Fluor Daniel Hanford, Four Star Accessory Overhaul Inc, Four Star Die and Mold, Frisbie Co, Fryer-Knowles, Inc., Fuji Heavy Industries USA Inc, GCM North American Aerospace, GE Aircraft Engines, GE Aviation, Ge Aviation Systems Llc, GE Company - Aircraft Engine Field Service, GE Polymershapes /(Cadillac Plastic and Chemical Co.), Gee Bee Canopies Inc, Gemini Engineering, General Dynamics Ordnance and Tactical Systems, General Dynamics Ordnance and Tactical Systems, General Electric Company, General Plastics Manufacturing Company, Geneva Aviation, Inc., Gensco, Inc. (Seattle), George's Custom Plastics, Giddens Industries, Inc., Global Aerosystems, LLC., Global In-flight Products, Global Machine Works, Inc., Globe International, Inc., GM Nameplate, Go Lightly Inc, Gompf Brackets, Inc., Goodrich [Menasco]-Landing Gear, Goodrich Cargo Systems, Goodrich Corp., Seattle Service Center (Interiors), Goodrich-Aerostructures, Goodrich-Aircraft Interior Products, Goodrich-Aircraft Wheels and Brakes, Carbon Operations, Greenpoint Technologies, Growth Strategies, GWC, Inc. / (Golden West Communications), H & H Machine, Hallidie Machinery Co., Inc., Hamburg Precision, Inc., Hamilton Sundstrand, Hannen Engineering, LLC., Harbor Island Machine Works, Inc. , Harper Engineering CO Inc., Harris Corporation, Farinon Division, Hart Systems, Inc., Haskins Steel Co., Inc., Heatcon Composite Systems, Heath Manufacturing, Heath Tecna, Helicopter Parts International, Inc., Helicopters Northwest, Heli-Tech, Hexcel Corp, Hexcel Structures & Interiors, High Energy Metals, Hill,Steven, Hirschler Mfg., Inc., Hobart Machined Products, Inc., Honeywell , Hovair Systems, Inc., Hra Inc, Hydro USA, Co., Hytek Finishes Company, I.G.I. (Industrial Gasket, Inc.), ID Integration, IDD Aerospace Corporation, IDL Precision Machining, Imaginetics Inc, Industrial Automation Inc., Industrial Rubber & Supply, Inc./ Comfor Products, Inc., Industrial Systems Lab, IndySoft/ Norfox Software, Inc., Infinity Fabrication, Inc., Inland Empire Distribution Systems, Inc., Inland Northwest Metallurgical Services, Inc., Innovative Composite Engineering, Innovative Technologies, Inc., Insitu Group, Inc., Integrated Technologies, Inc. (INTEC, Inc.), Inter Avionics Inc, Interaction Research, Corp., International Aero Interiors, Inc. (Changed name to Volant), Interpoint Corporation (Crane Electronics, New name), J & M Machine, LLC., J & R Metalcraft Fabricators Inc., J & S Fabrication, Inc., J D Ott Co Inc, J R Engineering, Jamco America, Janicki Industries, Inc., JC Manufacturing Inc, Jesse Engineering Co., Jet City Laser / ID Integration, Inc., Jet Link International Inc, Jet Parts Engineering Inc, Jet Systems Inc, Jetseal, Inc., Jevco, Jim Suzuki, Jitco-Llc, JL Manufacturing, Jorgensen Forge Corporation, JWD Machine, K & T Machine, Kaas Tailored (Kaasco Incorporated), Kawasaki Heavy Industries, Inc. USA, Keating, Roy E, Kenmore Air Harbor Inc, Kens Repair Shop, Kent Manufacturing, Khan Machine Tool Co Ltd, King Machine, Inc., Kit Planes Northwest, KLM Antennas, Inc., Koch Machine & Tool Co, KOLLMAR SHEET METAL, Korry Electronics Co. [Esterline], Kripya LLC, L & M Precision Fabrication, Inc., Labinal Inc. (SAFRAN Group.), Lacroix Industries, Inc., Lafarge & Egge, Inc., Laird Plastics, Lamar Technologies, LLC, Lamsco Northwest Inc, Lantal Textiles, Inc., Laser Cutting NW, Laz Tool and Fabricators, Leading Strategies LLC, Leonard's Metal, Inc. [subsidiary or LMI Aerospace], LifePort Inc, Lift Solutions Inc, Lighthouse for the Blind, Lindmark Machine Works, Inc., Livingston Molded Products, Lkd Aerospace Inc, Lockheed Martin / (Orincon Sygenex Incorporated), Lord Corporation, Lowell Industries, Inc., LRT, Inc., Lukas Machine Inc., Luke Manufacturing Inc, Lumicor, Lunar Transportation Systems, M L Industries, Inc., Machen, Inc., Machines & Methods, Inc., Machinists Inc., Majestic Aerotech Inc, Mark Airmotive, Marketech International, Inc., Matsushita Avionics Systems Corp (Panasonic Aviations Corp), Mcbride, James L, Mccormick Air Center Llc, Measurement Systems International Inc, Mechanical Products L.L.C., Mechanical Specialties LLC, Mercer Products & Mfg. Co., Merlyn Products Inc, Messier-Dowty (SAFRAN Group), Metal Benders, Inc., Metal Motion, Metal Tech, Inc., Metaltest Inc., Micro AeroDynamics, Inc., Micro Finishing Inc, Microform Corp., Microjet (Ryerson), Micropump, Inc., Midstate Aviation Inc, Millennium Airship Inc, Miller Fabrication, Inc., Miller Screw Products, Inc., Millers Radiator Inc, Mistras Group Inc, Mitsubishi Heavy Industries America, Modelworks, Inc., Modern Machine Company, Mold Rite Inc., Monaco Enterprises, Inc., Monroe Associates, Monroe Machined Products, Inc., MOOG Aircraft Group, Morel Industries / Ballard Brass & Aluminum Inc., Morgan Aero Products/ Morgan Bros of Everett, Inc., MTI, Mustang Survival , Inc., Nabtesco Aerospace, Inc., NAT Seattle, National Industrial Concepts, National Precision Bearing Group, Naverus, Inc., NDT Engineering (Olumpus NDT), Neumeier Engineering, Inc., New Breed Logistics, New Era Contract Sales, Inc., New Tech Industries, Inc., Newell Corporation, Nicholson Manufacturing Company, Non-Ferrous Metals, Inc., Norfil Manufacturing, Inc., North American Rotor Work, North Star Aerospace, Inc., Northmar, Inc., Northrop Grumman, Northrop Grumman PRB Systems, Inc., Northway Products, Inc., Northwest Aerospace Technologies, Inc., Northwest Assembly and Machining, Northwest Dynamics Inc, Northwest Etch Technology, Northwest Heli Structures Inc, Northwest Helicopters, Northwest Propeller Service INC, Northwest Wire EDM, Northwing Design Inc, Nova Composites, Inc., NOVATEC LLC , Nova-Tech Engineering, Inc., NWAES-LLC. Northwest Aviation Engineering Services (NWASG; Northwest Aviation Services Group), Olympia Avionics Inc, Olympic Software, INC., Olympic Tool & Engineering, Inc., OMAX Corp., Omega Fastener Co., Inc., Onamac Industries, Inc., Onboard Systems, On-Site Calibration Services, Inc., Opus Northwest LLC, Orbit Industries, Inc., Orcon Corporation, Orion Industries, Orion Technologies, P & J Machining, Inc., P F Fishpole Hoists, Inc., P M Testing Laboratory Inc, Pacific Aero Tech Inc., Pacific Aerospace & Electronics, Pacific Metallurgical, Pacific Metallurgical, Inc., Pacific Northwest Aerospace Alliance, Pacific Rim Aerospace Corp., Pacific Sheet Metal, Inc., Pacific Testing Laboratories/ PSI Professional Service Industries, Pacific Tool, Inc., Pacifica Engineering, Inc., Paine Electronics, LLC, Pan Pacific Electronics, Panasonic Avionics Corp., Paradigm Technologies Inc, Para-Phernalia, Inc., Park Aerospace Structures Corp, Paterson Labs Inc, Pavco Inc, PDS Engineering, Pearson Air Inc, Pederson Bros., Inc., Pentz Cast Solutions / Pentz Design Pattern & Foundry, Pexco, Phoenixx TPC, Phyl-Mar Swiss Products, Inc., Pineda Precision Inc, Pioneer Aerofab Co., Pioneer Industries, Plastic Injection Molding, Inc., Plexsys Interface Products, Inc., Plexus Manufacturing Inc., PM Testing Laboratory, Inc., Polaris Machining and Sheet Metal, Port of Moses Lake, Port Townsend Foundry, Pratt and Whitney, PRC-DeSoto International, Inc. [PPG Aerospace], Pre Metco, Precision Aerospace & Composites [Precision Pattern Inc.], Precision Airmotive Corp, Precision Automatics Inc, Precision Circuits, Inc., Precision Engines, LLC., Precision Logistics LLC/ Skypac Parts & Supply, Precision Machine Works, Precision Pattern, Inc., Premium Machine, Pressco Products, Primex Aerospace Co. (Aerojet (Redmond Operation)), Primus International, Inc, Pro Tool Manufacturing, ProCam Machine, Inc., Proctor Products Co., Inc., Production Machine Tools, Professional Cad Services, Inc., Proto Design, Inc., PSF Industries, Pyrometric Company/ Pyrobond Composite Repair Systems, Qnc Machine Inc, QPM Aerospace, Quad Group, Qual-Fab, Quality Metal Spinning Co., Quality Stamping & Machine, Quest Integrated, Inc., Quick Precision Inc, Quiet Wing Corporation/ DuganAir Technologies Inc., Rainier Industries, LTD., Rainier Rubber Company / Porter Seal Company, Raisbeck Engineering, Inc., RAM Technologies, Regional Air Center Llc, Renton Coil Spring Co., Reusable Space Exploration, Reynold Grey Machining & Services Inc. (Reynold Grey & Associates), RF System Lab, Richmond Engineering [Richmond Systems], Rma Inc, Rocket Engineering Corp., Rockwell Collins, Rockwell Collins, Rogers Dierks Inc, Ronald Bird, Rotary Wing Services LLC, Royell Manufacturing, Inc., Rti Manufacturing Inc, S & S Welding, Inc., Safeair, Inc., Safran Electronics Usa Inc, Saint Gobain Performance Plastics / Engineered Thermoforming and Composites, Sandvik Special Metals Corporation, Scanivalve, Schneider-Simpson Sheet Metal & Blower Company, Inc., Schober Decorative Laminates, Sea West Products, Inc., Seacast Inc., Sealth Aero Marine Co, Seattle Aerospace International, Shannon Engineering, Sicma Aero Seat Services, Silicon Designs Co., Silicon Forest Electronics, Inc., SKCAC Industries, Skills Inc., Skills Inc., Sky-Riders Northwest, Snohomish County Airport – Paine Field, Soloy Corporation, Sound Analytical Services, Sound Components Supply Co Inc., Sound Flight, Inc., Sound Spring, Inc., Southwest Aero Inc, Spartan Industries, Specialty Metals Corp., Specialty Steel Fabricators, Inc. [Richmond Systems], Spectra Lux Corporation, Spencer Aircraft, Spencer Fluid Power, Spoilers Inc, Spokane Industries, Metal Products Div., SSI Cable Corporation , SSOE, Inc., Staveley Instruments Inc. [Olympus NDT], Steel-Fab, Inc., Stewart Industries, Inc., STI Optronics, Inc., Stiffler, Phillip M, Stoddard International, LLC, Streich Bros., Inc., Structural Integrity Engineering, Inc., Subsea Air Systems, Summerville Steel Company, Sunset Castings, Inc., Sunshine Metals, Synergy Machine Co., T C Systems, Inc., T N T Enterprises, Tag Aviation USA Inc, Talon Aviation L.L.C., Talon Manufacturing, Team Aero Services Inc, Technic Machine Co Inc, Tecplot, Inc., TECT Aerospace , Tethers Unlimited Inc, Thales Avionics Inc, Thompson Metal Fab, Inc., TLG Aerospace, LLC - The Loads Group, Tool Gauge & Machine Works Inc., Toolcraft Inc, Toray Composites (America) Inc., TORR Technologies, Inc., Total Performance, Transtar Metals, Tri Tec Communications, Inc., Triumph Composite Systems, Inc., Trojan Lithograph Co., TRW - Lucas Aerospace, TTF Aerospace, LLC, Turning Point Machining, Turtle Airships Inc, Tuthill Controls Group, Tyee Aircraft, Inc., UFC Aerospace Inc, UGS Corp. / UGS Tecnomatix, Ultrasonic Arrays, Inc., Umbra Cuscinetti, Inc., United Stars Aerospace, Universal Aerospace Company, Inc. / (Precision Technology), Universal Avionics Systems Corp. Research/ Development/ Engineering Division, University of Washington, University Swaging Corp.(Primus), Uniwest (United Western Tech.), US Castings, Valley Illuminators, Inc., Valley Machine Shop, Valley Upholstery & Fabric, Vaupell Industrial Plastics, Inc., Vector Industries, Inc., Viper Aircraft Corp, VM Products, Inc, Volant Aerospace Llc, Volt Services Group, Vulcan Products Company, Walker Engineering, Inc., Walter, Dorwin, Teague Associates (Teague), Weissert Tool & Design, Inc., Weldon Tool [Talboy Holdings] / Advanced Tooling Company, WEST COAST INDUSTRIES, INC, West Coast Specialties, Western Avionics Inc, Western Metal Products, Western Pneumatic Tube Company, Western Technologies, Inc., Western Technology, Inc., Westwood Manufacturing, Westwood Precision Inc., Wilson Tool & Mfg Co., Wings West Governor Exchange And Overhaul Inc, Wise Welding, Wood Associates, Woodford Phoenix Aerospace Manufacturing, Woodland Pattern, Inc., Wooten & Lloyd (Spanaflight), Worldwind Maintenance Inc, Xactex Corp., Young, Robert D, Zetec, Inc., Zodiac Inc