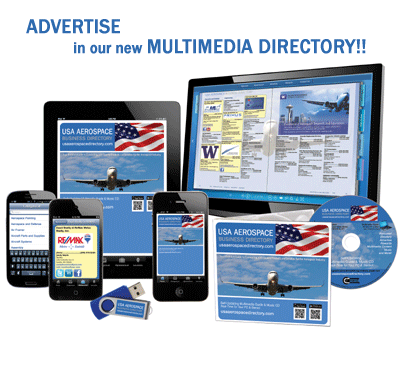 Advertise
Are you interested in reaching out to the aerospace industry with your marketing efforts?

The USA Aerospace Directory is the leading B2B directory and official resource used by aerospace executives and decision makers.

Enjoy being highlighted as an appreciated pillar of our industry while promoting your business, get directly introduced to our 8,000+ email subscriber base with custom-tailored blasts, display our Best of Aerospace web badge endorsement and more.

Increase your visibility, target new customers and drive traffic to your website - these are just a few of the reasons to participate in the USA Aerospace Directory!
It's a quick, easy process:

With its Online Flash and PDF editions, iPhone and Android mobile apps, plus a circulation of self-updating CDs, USBs and print, decision makers and their staff rely on this publication to improve their work environments, and use it as a referral, networking and purchasing tool throughout the year.



Go worldwide, year-round:

Get worldwide exposure, year-round at major international and local aerospace events including: Paris Air Show, Seattle Aircraft Interiors Expo Americas, Aeromart Montreal, Farnborough Air Show, Japan Aerospace and more. Reach 5,000 exhibitors, 300,000 trade visitors, 300,000 general public visitors, from 100 countries covered by over 3,000 accredited journalists around the world.



Save big by enrolling now:

Take advantage of our affordable low rates before the annual price increase takes effect and enjoy your first month placement on us! These first-time advertiser deals are only available for a limited time, so contact us today!
Do you think this might be useful for your business, would you like to receive more information? Simply email us at inquiry@usaaerospacedirectory.com or call (206) 259-7868 and we will be happy to assist.

Thank you - we look forward to being of service in connecting you with our aerospace communities.
Enhanced Business Flow and Outreach
Enjoy the new Enhanced Listing features including:
Active website URL and E-mail

Links to Twitter, Facebook, LinkedIn, YouTube and more

Business logo and slogan/tagline
Take advantage of exclusive sponsorship and advertisement options, never before available. These features are designed to:
Increase the number of calls, emails and site visits

Provide a higher quality service and product to your prospects and partners

Improve customer loyalty and appreciation
Get More Results
All else being equal, companies who advertise generate more business flow. If your company isnít actively advertising or at least being listed in the new directory, you may be missing out. Click here to see the available options