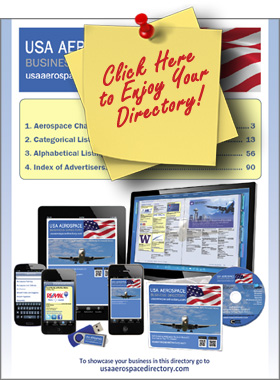 USA Aerospace Directory

Enjoy the USA Aerospace Directory and connect with trusted industry leaders! Browse the listings of hundreds of companies of all types and sizes who are doing business both in the Aerospace Industry and supporting it.
This is your resource to easily find and connect with top-tier companies offering the products and services your business needs. Listings and ads are available to Aerospace companies and all businesses who support the industry. For information about opportunities, visit our advertise page or contact us.
Search companies instantly by category, business name, advertiser indexes, or keywords.

Visit company websites and their social media networks such as Facebook, LinkedIn, Twitter, etc. with just one click.

E-mail them directly.

Print any page, share with friends by e-mail or post on other sites.

Browse company ads to see what sets them apart as pillars of the aerospace industry.

Download the mobile app for Android (search for "USA Aerospace Directory" on Google play)

Download the mobile app for iPhone (coming soon!)

Have your company listed. Click here to submit your business information (fees may apply)

Find out how you can further maximize your visibility. Call us at (206) 259-7868 and we will be happy to help!